Theranostics 2016; 6(10):1641-1650. doi:10.7150/thno.14958 This issue
Research Paper
Gastrin-releasing Peptide Receptor Imaging in Breast Cancer Using the Receptor Antagonist 68Ga-RM2 And PET
1. Department of Nuclear Medicine, Medical Center - University of Freiburg, Faculty of Medicine, University of Freiburg, Germany;
2. Department of Obstetrics and Gynecology, University Medical Center Freiburg, Germany;
3. Department of Clinical Pathology, University Medical Center Freiburg, Germany;
4. German Cancer Research Center (DKFZ), Heidelberg, Germany;
5. German Cancer Consortium (DKTK), Freiburg, Germany;
6. Molecular Imaging and Therapy Service, Department of Radiology, Memorial Sloan Kettering Cancer Center, New York, United States of America;
7. Department of Gynecology and Obstetrics, University Hospital Aachen, Germany;
8. Tumorbank, Comprehensive Cancer Center Freiburg, University Medical Center Freiburg, Germany.
*Both authors contributed equally.

Citation:
Stoykow C, Erbes T, Maecke HR, Bulla S, Bartholomä M, Mayer S, Drendel V, Bronsert P, Werner M, Gitsch G, Weber WA, Stickeler E, Meyer PT. Gastrin-releasing Peptide Receptor Imaging in Breast Cancer Using the Receptor Antagonist
68
Ga-RM2 And PET.
Theranostics
2016; 6(10):1641-1650. doi:10.7150/thno.14958. Available from
https://www.thno.org/v06p1641.htm
Abstract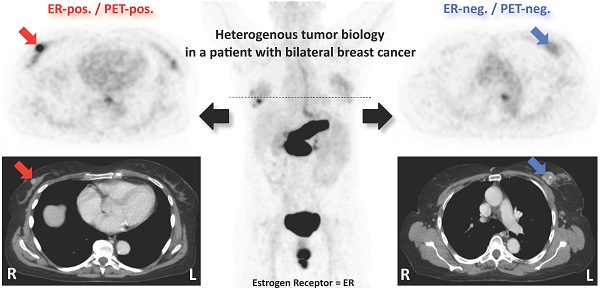 Introduction: The gastrin-releasing peptide receptor (GRPR) is overexpressed in breast cancer. The present study evaluates GRPR imaging as a novel imaging modality in breast cancer by employing positron emission tomography (PET) and the GRPR antagonist 68Ga-RM2.
Methods: Fifteen female patients with biopsy confirmed primary breast carcinoma (3 bilateral tumors; median clinical stage IIB) underwent 68Ga-RM2-PET/CT for pretreatment staging. In vivo tumor uptake of 68Ga-RM2 was correlated with estrogen (ER) and progesterone (PR) receptor expression, HER2/neu status and MIB-1 proliferation index in breast core biopsy specimens.
Results: 13/18 tumors demonstrated strongly increased 68Ga-RM2 uptake compared to normal breast tissue (defined as PET-positive). All PET-positive primary tumors were ER- and PR-positive (13/13) in contrast to only 1/5 PET-negative tumors. Mean SUVMAX of ER-positive tumors was 10.6±6.0 compared to 2.3±1.0 in ER-negative tumors (p=0.016). In a multivariate analysis including ER, PR, HER2/neu and MIB-1, only ER expression predicted 68Ga-RM2 uptake (model: r2=0.55, p=0.025). Normal breast tissue showed inter- and intraindividually variable, moderate GRPR binding (SUVMAX 2.3±1.0), while physiological uptake of other organs was considerably less except pancreas. Of note, 68Ga-RM2-PET/CT detected internal mammary lymph nodes with high 68Ga-RM2 uptake (n=8), a contralateral axillary lymph node metastasis (verified by biopsy) and bone metastases (n=1; not detected by bone scan and CT).
Conclusion: Our study demonstrates that 68Ga-RM2-PET/CT is a promising imaging method in ER-positive breast cancer. In vivo GRPR binding assessed by 68Ga-RM2-PET/CT correlated with ER expression in primary tumors of untreated patients.
Keywords: GRPR, gastrin-releasing peptide receptor, bombesin, PET, positron emission tomography, breast cancer, ER, estrogen receptor.