Theranostics 2017; 7(11):2757-2774. doi:10.7150/thno.19551 This issue
Research Paper
Cardiac Metabolic Deregulation Induced by the Tyrosine Kinase Receptor Inhibitor Sunitinib is rescued by Endothelin Receptor Antagonism
1. Paris Cardiovascular Research Center (PARCC); INSERM UMR970; Université Paris Descartes; Paris, France;
2. Institut Cochin, Université Paris Descartes, INSERM U1016, Paris 75014, France;
3. University/British Heart Foundation Centre for Cardiovascular Science, Queen's Medical Research Institute, Edinburgh, United Kingdom;
4. 3P5 proteomics facility, Université Paris Descartes, Université Sorbonne Paris Cité, Paris, France
5. University/British Heart Foundation Centre of Research Excellence, The Queen's Medical Research Institute, University of Edinburgh, United Kingdom;
6. Service de Radiologie, Hôpital Européen Georges Pompidou, Assistance Publique-Hôpitaux de Paris (AP-HP), Paris, France.

This is an open access article distributed under the terms of the Creative Commons Attribution (CC BY-NC) license (https://creativecommons.org/licenses/by-nc/4.0/). See http://ivyspring.com/terms for full terms and conditions.
Citation:
Sourdon J, Lager F, Viel T, Balvay D, Moorhouse R, Bennana E, Renault G, Tharaux PL, Dhaun N, Tavitian B. Cardiac Metabolic Deregulation Induced by the Tyrosine Kinase Receptor Inhibitor Sunitinib is rescued by Endothelin Receptor Antagonism.
Theranostics
2017; 7(11):2757-2774. doi:10.7150/thno.19551. Available from
https://www.thno.org/v07p2757.htm
Abstract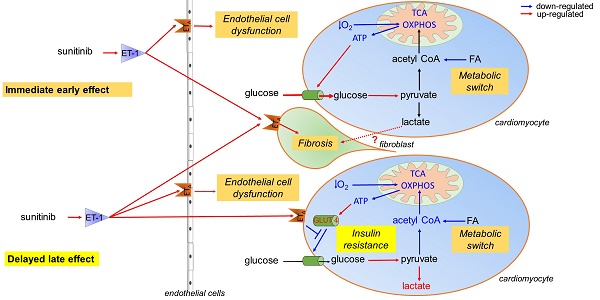 The growing field of cardio-oncology addresses the side effects of cancer treatment on the cardiovascular system. Here, we explored the cardiotoxicity of the antiangiogenic therapy, sunitinib, in the mouse heart from a diagnostic and therapeutic perspective.
We showed that sunitinib induces an anaerobic switch of cellular metabolism within the myocardium which is associated with the development of myocardial fibrosis and reduced left ventricular ejection fraction as demonstrated by echocardiography. The capacity of positron emission tomography with [18F]fluorodeoxyglucose to detect the changes in cardiac metabolism caused by sunitinib was dependent on fasting status and duration of treatment. Pan proteomic analysis in the myocardium showed that sunitinib induced (i) an early metabolic switch with enhanced glycolysis and reduced oxidative phosphorylation, and (ii) a metabolic failure to use glucose as energy substrate, similar to the insulin resistance found in type 2 diabetes. Co-administration of the endothelin receptor antagonist, macitentan, to sunitinib-treated animals prevented both metabolic defects, restored glucose uptake and cardiac function, and prevented myocardial fibrosis.
These results support the endothelin system in mediating the cardiotoxic effects of sunitinib and endothelin receptor antagonism as a potential therapeutic approach to prevent cardiotoxicity.
Furthermore, metabolic and functional imaging can monitor the cardiotoxic effects and the benefits of endothelin antagonism in a theranostic approach.
Keywords: cardio-oncology, cardiotoxicity, positron emission tomography, echocardiography, endothelin, sunitinib, macitentan.