Theranostics 2021; 11(19):9571-9586. doi:10.7150/thno.61711 This issue
Research Paper
The Polo-like kinase 1 inhibitor onvansertib represents a relevant treatment for head and neck squamous cell carcinoma resistant to cisplatin and radiotherapy
1. University Côte d'Azur, Institute for Research on Cancer and Aging of Nice (IRCAN), CNRS UMR 7284; INSERM U1081, Centre Antoine Lacassagne, 06189 Nice, France.
2. LIA ROPSE, Laboratoire International Associé Université Côte d'Azur - Centre Scientifique de Monaco.
3. University Côte d'Azur, Centre Hospitalier Universitaire (CHU) de Nice, Hôpital Pasteur, Central laboratory of Pathology, 06000 Nice, France.
4. Centre Antoine Lacassagne, 06189 Nice, France.
5. Department of Microbiology, Tumor and Cell Biology, Karolinska Institutet, SE-171 77 Stockholm, Sweden.
6. Centre Scientifique de Monaco, Biomedical Department, 8 quai Antoine Premier, 98 000 Monaco, Principality of Monaco.

This is an open access article distributed under the terms of the Creative Commons Attribution License (https://creativecommons.org/licenses/by/4.0/). See http://ivyspring.com/terms for full terms and conditions.
Citation:
Hagege A, Ambrosetti D, Boyer J, Bozec A, Doyen J, Chamorey E, He X, Bourget I, Rousset J, Saada E, Rastoin O, Parola J, Luciano F, Cao Y, Pagès G, Dufies M. The Polo-like kinase 1 inhibitor onvansertib represents a relevant treatment for head and neck squamous cell carcinoma resistant to cisplatin and radiotherapy.
Theranostics
2021; 11(19):9571-9586. doi:10.7150/thno.61711. Available from
https://www.thno.org/v11p9571.htm
Abstract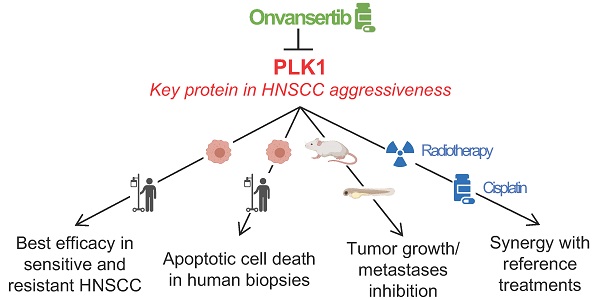 Rationale: Head and neck squamous cell carcinoma (HNSCC) represent the 4th most aggressive cancer. 50% of patients relapse to the current treatments combining surgery, radiotherapy and cisplatin and die two years after the diagnosis. Elevated expression of the polo-like kinase 1 (Plk1) correlated to a poor prognosis in epidermoid carcinomas.
Methods: The molecular links between Plk1 and resistance to cisplatin/radiotherapy were investigated in patients and cell lines resistant to cisplatin and/or to radiotherapy. The therapeutic relevance of the Plk1 inhibitor onvansertib, alone or combined with cisplatin/radiotherapy, was evaluated on the proliferation/migration on HNSCC cell lines, in experimental HNSCC in mice, in a zebrafish metastasis model and on patient-derived 3D tumor sections.
Results: Plk1 expression correlated to a bad prognosis in HNSCC and increased after relapse on cisplatin/radiotherapy. Onvansertib induced mitotic arrest, chromosomic abnormalities and polyploidy leading to apoptosis of sensitive and resistant HNSCC cells at nanomolar concentrations without any effects on normal cells. Onvansertib inhibited the growth of experimental HNSCC in mice and metastatic dissemination in zebrafishes. Moreover, onvansertib combined to cisplatin and/or radiotherapy resulted in a synergic induction of tumor cell death. The efficacy of onvansertib alone and in combination with reference treatments was confirmed on 3D viable sections of HNSCC surgical specimens.
Conclusions: Targeting Plk1 by onvansertib represents a new strategy for HNSCC patients at the diagnosis in combination with reference treatments, or alone as a second line treatment for HNCSCC patients experiencing relapses.
Keywords: Plk1, Head and neck squamous cell carcinoma (HNSCC), cisplatin resistance, radiation resistance, onvansertib