Theranostics 2016; 6(7):1031-1042. doi:10.7150/thno.14431 This issue
Research Paper
Polydopamine Nanoparticles as a Versatile Molecular Loading Platform to Enable Imaging-guided Cancer Combination Therapy
1. Institute of Functional Nano & Soft Materials (FUNSOM), Collaborative Innovation Center of Suzhou Nano Science and Technology, the Jiangsu Key Laboratory for Carbon-Based Functional Materials & Devices, Soochow University, Suzhou, Jiangsu 215123, China.
2. The First Affiliated Hospital of Soochow University, Suzhou, Jiangsu 215006, China.

Citation:
Dong Z, Gong H, Gao M, Zhu W, Sun X, Feng L, Fu T, Li Y, Liu Z. Polydopamine Nanoparticles as a Versatile Molecular Loading Platform to Enable Imaging-guided Cancer Combination Therapy.
Theranostics
2016; 6(7):1031-1042. doi:10.7150/thno.14431. Available from
https://www.thno.org/v06p1031.htm
Abstract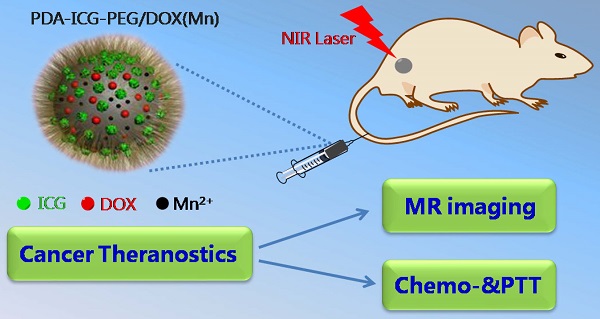 Cancer combination therapy to treat tumors with different therapeutic approaches can efficiently improve treatment efficacy and reduce side effects. Herein, we develop a theranostic nano-platform based on polydopamine (PDA) nanoparticles, which then are exploited as a versatile carrier to allow simultaneous loading of indocyanine green (ICG), doxorubicin (DOX) and manganese ions (PDA-ICG-PEG/DOX(Mn)), to enable imaging-guided chemo & photothermal cancer therapy. In this system, ICG acts as a photothermal agent, which shows red-shifted near-infrared (NIR) absorbance and enhanced photostability compared with free ICG. DOX, a model chemotherapy drug, is then loaded onto the surface of PDA-ICG-PEG with high efficiency. With Mn2+ ions intrinsically chelated, PDA-ICG-PEG/DOX(Mn) is able to offer contrast under T1-weighted magnetic resonance (MR) imaging. In a mouse tumor model, the MR imaging-guided combined chemo- & photothermal therapy achieves a remarkable synergistic therapeutic effect compared with the respective single treatment modality. This work demonstrates that PDA nanoparticles could serve as a versatile molecular loading platform for MR imaging guided combined chemo- & photothermal therapy with minimal side effects, showing great potential for cancer theranostics.
Keywords: Polydopamine, Indocyanine green, Nano-Drug delivery system, Combination therapy, Magnetic resonance imaging.