Theranostics 2016; 6(7):1043-1052. doi:10.7150/thno.14566 This issue
Research Paper
Indocyanine Green-Loaded Polydopamine-Reduced Graphene Oxide Nanocomposites with Amplifying Photoacoustic and Photothermal Effects for Cancer Theranostics
1. Guangdong Key Laboratory of Nanomedicine, CAS Key Laboratory of Health Informatics, Shenzhen Institutes of Advanced Technology, Chinese Academy of Sciences, Shenzhen 518055, P.R. China;
2. Paul C. Lauterbur Research Center for Biomedical Imaging, Institute of Biomedical and Health Engineering, Shenzhen Institutes of Advanced Technology, Chinese Academy of Sciences, Shenzhen 518055, P. R. China.
3. Paul-Drude Institut, Leibniz-Institut im Forschungsverbund, Hausvogteiplatz 5-7, 10117, Berlin, Germany.
†These authors contributed equally to this work.

Citation:
Hu D, Zhang J, Gao G, Sheng Z, Cui H, Cai L. Indocyanine Green-Loaded Polydopamine-Reduced Graphene Oxide Nanocomposites with Amplifying Photoacoustic and Photothermal Effects for Cancer Theranostics.
Theranostics
2016; 6(7):1043-1052. doi:10.7150/thno.14566. Available from
https://www.thno.org/v06p1043.htm
Abstract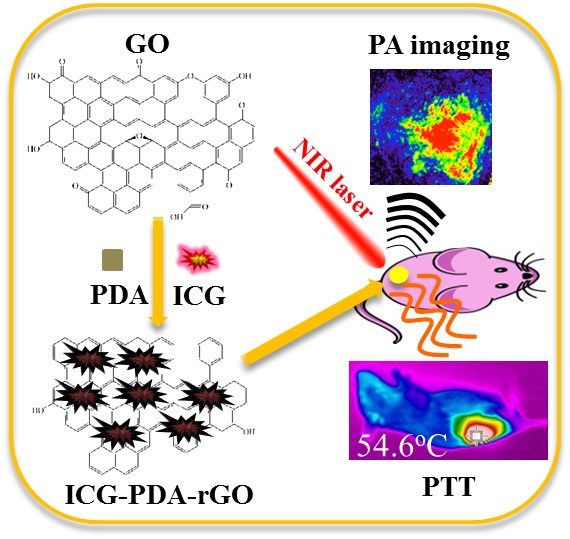 Photoacoustic (PA) imaging and photothermal therapy (PTT) as light-induced theranostic platforms have been attracted much attention in recent years. However, the development of highly efficient and integrated phototheranostic nanoagents for amplifying PA imaging and PTT treatments poses great challenges. Here, we report a novel phototheranostic nanoagent using indocyanine green-loaded polydopamine-reduced graphene oxide nanocomposites (ICG-PDA-rGO) with amplifying PA and PTT effects for cancer theranostics. The results demonstrate that the PDA layer coating on the surface of rGO could effectively absorb a large number of ICG molecules, quench ICG's fluorescence, and enhance the PDA-rGO's optical absorption at 780 nm. The obtained ICG-PDA-rGO exhibits stronger PTT effect and higher PA contrast than that of pure GO and PDA-rGO. After PA imaging-guided PTT treatments, the tumors in 4T1 breast subcutaneous and orthotopic mice models are suppressed completely and no treatment-induced toxicity being observed. It illustrates that the ICG-PDA-rGO nanocomposites constitute a new class of theranostic nanomedicine for amplifying PA imaging and PTT treatments.
Keywords: Theranostics, Indocyanine green, Reduced graphene oxide, Photoacoustic imaging, Photothermal therapy.