Theranostics 2016; 6(7):1065-1074. doi:10.7150/thno.15420 This issue
Research Paper
Supramolecular Crafting of Self-Assembling Camptothecin Prodrugs with Enhanced Efficacy against Primary Cancer Cells
1. Department of Chemical and Biomolecular Engineering, and Institute for NanoBioTechnology, The Johns Hopkins University, 3400 North Charles Street, Baltimore, Maryland 21218 United States.
2. Department of Neurosurgery, Johns Hopkins University School of Medicine, Baltimore, Maryland 21224, United States.
3. Center for Nanomedicine, The Wilmer Eye Institute, Johns Hopkins University School of Medicine, 400 North Broadway, Baltimore, Maryland 21231, United States.
4. Department of Oncology and Sidney Kimmel Comprehensive Cancer Center, Johns Hopkins University School of Medicine, Baltimore, Maryland 21205, United States.
* These authors contribute equally to this work.

Citation:
Su H, Zhang P, Cheetham AG, Koo JM, Lin R, Masood A, Schiapparelli P, Quiñones-Hinojosa A, Cui H. Supramolecular Crafting of Self-Assembling Camptothecin Prodrugs with Enhanced Efficacy against Primary Cancer Cells.
Theranostics
2016; 6(7):1065-1074. doi:10.7150/thno.15420. Available from
https://www.thno.org/v06p1065.htm
Abstract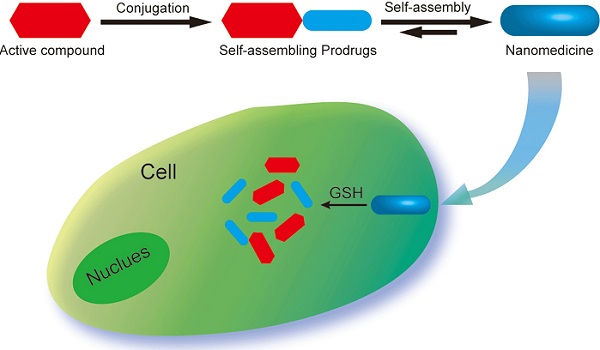 Chemical modification of small molecule hydrophobic drugs is a clinically proven strategy to devise prodrugs with enhanced treatment efficacy. While this prodrug strategy improves the parent drug's water solubility and pharmacokinetic profile, it typically compromises the drug's potency against cancer cells due to the retarded drug release rate and reduced cellular uptake efficiency. Here we report on the supramolecular design of self-assembling prodrugs (SAPD) with much improved water solubility while maintaining high potency against cancer cells. We found that camptothecin (CPT) prodrugs created by conjugating two CPT molecules onto a hydrophilic segment can associate into filamentous nanostructures in water. Our results suggest that these SAPD exhibit much greater efficacy against primary brain cancer cells relative to that of irinotecan, a clinically used CPT prodrug. We believe these findings open a new avenue for rational design of supramolecular prodrugs for cancer treatment.
Keywords: CPT Prodrug, high potency, self-assembly, nanomedicine, brain cancer, peptides.