Theranostics 2019; 9(4):1154-1169. doi:10.7150/thno.29146 This issue
Research Paper
Activated platelets in the tumor microenvironment for targeting of antibody-drug conjugates to tumors and metastases
1. Baker Heart and Diabetes Institute, Melbourne, 3004, Australia
2. Department of Clinical Pathology, The University of Melbourne, Melbourne, 3010, Australia
3. Department of Medicine, Monash University, Melbourne, 3800, Australia
4. Department of Hematology, The Alfred Hospital, Melbourne, 3004, Australia
5. Drug Discovery Biology Theme, Monash Institute of Pharmaceutical Sciences, Monash University, Parkville, Victoria 3052, Australia
6. Olivia Newton-John Cancer Research Institute, and School of Cancer Medicine, La Trobe University, Melbourne, Victoria, Australia
7. Department of Molecular Imaging and Therapy, Austin Health, and University of Melbourne, Melbourne, Victoria, Australia.
8. Burnet Institute, Melbourne, 3004, Australia
9. Department of Immunology, Monash University, Melbourne, 3800, Australia
10. College of Health and Biomedicine, Victoria University, Melbourne, 3021, Australia
*equally contributing senior authors

This is an open access article distributed under the terms of the Creative Commons Attribution (CC BY-NC) license (https://creativecommons.org/licenses/by-nc/4.0/). See http://ivyspring.com/terms for full terms and conditions.
Citation:
Yap ML, McFadyen JD, Wang X, Ziegler M, Chen YC, Willcox A, Nowell CJ, Scott AM, Sloan EK, Hogarth PM, Pietersz GA, Peter K. Activated platelets in the tumor microenvironment for targeting of antibody-drug conjugates to tumors and metastases.
Theranostics
2019; 9(4):1154-1169. doi:10.7150/thno.29146. Available from
https://www.thno.org/v09p1154.htm
Abstract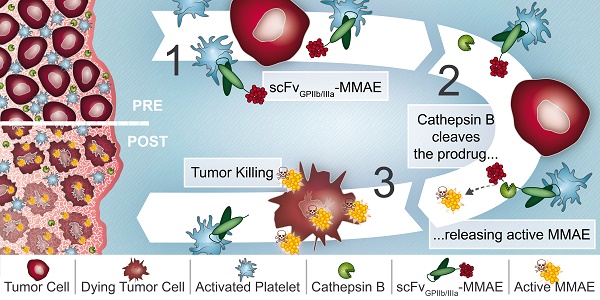 Rationale: Platelets are increasingly recognized as mediators of tumor growth and metastasis. Hypothesizing that activated platelets in the tumor microenvironment provide a targeting epitope for tumor-directed chemotherapy, we developed an antibody-drug conjugate (ADC), comprised of a single-chain antibody (scFv) against the platelet integrin GPIIb/IIIa (scFvGPIIb/IIIa) linked to the potent chemotherapeutic microtubule inhibitor, monomethyl auristatin E (MMAE).
Methods: We developed an ADC comprised of three components: 1) A scFv which specifically binds to the high affinity, activated integrin GPIIb/IIIa on activated platelets. 2) A highly potent microtubule inhibitor, monomethyl auristatin E. 3) A drug activation/release mechanism using a linker cleavable by cathepsin B, which we demonstrate to be abundant in the tumor microenvironment. The scFvGPIIb/IIIa-MMAE was first conjugated with Cyanine7 for in vivo imaging. The therapeutic efficacy of the scFvGPIIb/IIIa-MMAE was then tested in a mouse metastasis model of triple negative breast cancer.
Results: In vitro studies confirmed that this ADC specifically binds to activated GPIIb/IIIa, and cathepsin B-mediated drug release/activation resulted in tumor cytotoxicity. In vivo fluorescence imaging demonstrated that the newly generated ADC localized to primary tumors and metastases in a mouse xenograft model of triple negative breast cancer, a difficult to treat tumor for which a selective tumor-targeting therapy remains to be clinically established. Importantly, we demonstrated that the scFvGPIIb/IIIa-MMAE displays marked efficacy as an anti-cancer agent, reducing tumor growth and preventing metastatic disease, without any discernible toxic effects.
Conclusion: Here, we demonstrate the utility of a novel ADC that targets a potent cytotoxic drug to activated platelets and specifically releases the cytotoxic agent within the confines of the tumor. This unique targeting mechanism, specific to the tumor microenvironment, holds promise as a novel therapeutic approach for the treatment of a broad range of primary tumors and metastatic disease, particularly for tumors that lack specific molecular epitopes for drug targeting.
Keywords: Cancer, Activated platelets, GPIIb/IIIa, Antibody-drug conjugate