Theranostics 2019; 9(26):8018-8025. doi:10.7150/thno.38587 This issue
Review
Transcytosis - An effective targeting strategy that is complementary to "EPR effect" for pancreatic cancer nano drug delivery
1. Division of Nanomedicine, Department of Medicine, University of California, Los Angeles, California 90095, United States
2. California NanoSystems Institute, University of California, Los Angeles, California 90095, United States
*The authors contributed equally to this work.

This is an open access article distributed under the terms of the Creative Commons Attribution License (https://creativecommons.org/licenses/by/4.0/). See http://ivyspring.com/terms for full terms and conditions.
Citation:
Liu X, Jiang J, Meng H. Transcytosis - An effective targeting strategy that is complementary to "EPR effect" for pancreatic cancer nano drug delivery.
Theranostics
2019; 9(26):8018-8025. doi:10.7150/thno.38587. Available from
https://www.thno.org/v09p8018.htm
Abstract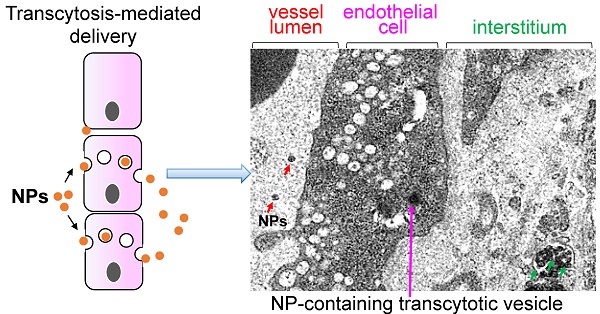 Numerous nano drug delivery systems have been developed for preclinical cancer research in the past 15 years with the hope for a fundamental change in oncology. The robust nanotherapeutic research has yielded early-stage clinical products as exemplified by the FDA-approved nano formulations (Abraxane® for paclitaxel and Onyvide® for irinotecan) for the treatment of solid tumors, including pancreatic ductal adenocarcinoma (PDAC). It is generally believed that enhanced permeability and retention (EPR) plays a key role in nanocarriers' accumulation in preclinical tumor models and is a clinically relevant phenomenon in certain cancer types. However, use of EPR effect as an across-the-board explanation for nanoparticle tumor access is likely over-simplified, particularly in the stroma rich solid tumors such as PDAC. Recently, ample evidences including our own data showed that it is possible to use transcytosis as a major mechanism for PDAC drug delivery. In this mini-review, we summarize the key studies that discuss how transcytosis can be employed to enhance EPR effect in PDAC, and potentially, other cancer malignancies. We also mentioned other vasculature engineering approaches that work beyond the classic EPR effect.
Keywords: Transcytosis, EPR effect, nano drug delivery