Theranostics 2019; 9(26):8048-8060. doi:10.7150/thno.37054 This issue
Research Paper
Single enzyme loaded nanoparticles for combinational ultrasound-guided focused ultrasound ablation and hypoxia-relieved chemotherapy
1. Bio-Organic Chemistry, Institute for Complex Molecular Systems, Eindhoven University of Technology, 5600 MB Eindhoven, the Netherlands.
2. State Key Laboratory for Modification of Chemical Fiber and Polymer Materials, College of Chemistry, Chemical Engineering and Biotechnology, Donghua University, Shanghai 201620, People's Republic of China.
3. Department of Radiology, Shanghai General Hospital, Shanghai Jiao Tong University School of Medicine, Shanghai 20080, People's Republic of China.
4. Department of Ultrasound, Shanghai General Hospital, Shanghai Jiaotong University School of Medicine, Shanghai 20080, People's Republic of China.
* These authors contributed equally to this work.

This is an open access article distributed under the terms of the Creative Commons Attribution License (https://creativecommons.org/licenses/by/4.0/). See http://ivyspring.com/terms for full terms and conditions.
Citation:
Zhu J, Li Z, Zhang C, Lin L, Cao S, Che H, Shi X, Wang H, van Hest JCM. Single enzyme loaded nanoparticles for combinational ultrasound-guided focused ultrasound ablation and hypoxia-relieved chemotherapy.
Theranostics
2019; 9(26):8048-8060. doi:10.7150/thno.37054. Available from
https://www.thno.org/v09p8048.htm
Abstract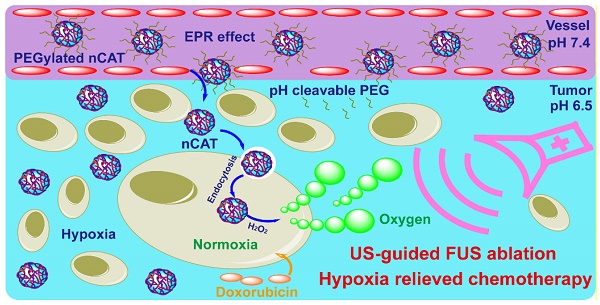 Constructing nanosystems that synergistically combine therapeutic and diagnostic features is of great interest to the nanomedicine community but also remains a tremendous challenge.
Methods: In this work, we report novel catalytic nanoparticles composed of the enzyme catalase, encapsulated in a polymer shell and surface decorated with pH-sensitive poly(ethylene glycol) (PEGylated nCAT). These nanoparticles were used as a promoter for ultrasound (US)-guided focused ultrasound (FUS) ablation and hypoxia alleviation for application in Doxorubicin-based chemotherapy.
Results: The PEGylated nCAT produced highly effectively O2 from endogenous H2O2 to ameliorate the hypoxic and therefore poor-acoustic tumor environment. The generated O2 was utilized as 1) a contrast agent for US imaging; 2) strengthening agent for FUS ablation and 3) normoxia inducer to enhance chemotherapeutic efficacy. The PEGylated nCAT exhibited favorable enzyme activity after long-term storage, and after exposure to proteolytic conditions and elevated temperatures. The pH-responsive PEGylation contributed on the one hand to an extended in vivo circulation time over 48 h and on the other hand enabled PEG cleavage in the vicinity of cancer cells to facilitate cellular uptake.
Conclusion: The developed PEGylated nCAT can therefore effectively combine US-guided FUS and chemotherapy and can be regarded as a highly promising theranostic platform.
Keywords: Catalase, polymer shell, pH-sensitive PEGylation, ultrasound-guided focused ultrasound ablation, chemotherapy.