Theranostics 2016; 6(7):1023-1030. doi:10.7150/thno.14741 This issue
Research Paper
Solid Tumor Therapy Using a Cannon and Pawn Combination Strategy
1. Key Laboratory of Polymer Ecomaterials, Changchun Institute of Applied Chemistry, Chinese Academy of Sciences, Changchun, 130022, PR China;
2. Department of Chemistry, Northeast Normal University, Changchun, 130021, PR China;
3. University of Chinese Academy of Sciences, Beijing, 100039, PR China.

Citation:
Song W, Tang Z, Zhang D, Wen X, Lv S, Liu Z, Deng M, Chen X. Solid Tumor Therapy Using a Cannon and Pawn Combination Strategy.
Theranostics
2016; 6(7):1023-1030. doi:10.7150/thno.14741. Available from
https://www.thno.org/v06p1023.htm
Abstract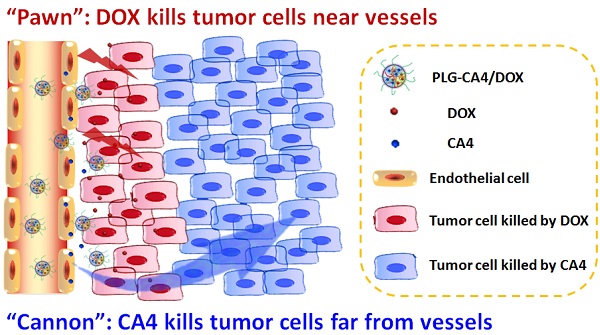 Nanocarrier-based anti-tumor drugs hold great promise for reducing side effects and improving tumor-site drug retention in the treatment of solid tumors. However, therapeutic outcomes are still limited, primarily due to a lack of drug penetration within most tumor tissues. Herein, we propose a strategy using a nanocarrier-based combination of vascular disrupting agents (VDAs) and cytotoxic drugs for solid tumor therapy. Specifically, combretastatin A-4 (CA4) serves as a "cannon" by eradicating tumor cells at a distance from blood vessels; concomitantly, doxorubicin (DOX) serves as a "pawn" by killing tumor cells in close proximity to blood vessels. This "cannon and pawn" combination strategy acts without a need to penetrate every tumor cell and is expected to eliminate all tumor cells in a solid tumor. In a murine C26 colon tumor model, this strategy proved effective in eradicating greater than 94% of tumor cells and efficiently inhibited tumor growth with a weekly injection. In large solid tumor models (C26 and 4T1 tumors with volumes of approximately 250 mm3), this strategy also proved effective for inhibiting tumor growth. These results showing remarkable inhibition of tumor growth provide a valuable therapeutic choice for solid tumor therapy.
Keywords: nanocarrier, vascular disrupting agents, cytotoxic drugs, combination, tumor therapy.